Development Notes
After talking to Marketing, hierarchy of content goes like this: Description > Brochure Literature > features > advanced features > Literature > how it works (kicker only) > then related (related might have to get changed to something else)
Option 6 Features
condensing the description, brochure, and WSL sections into a shorter element so users dont have to scroll as much
removing literature library link, and only showing individual literature items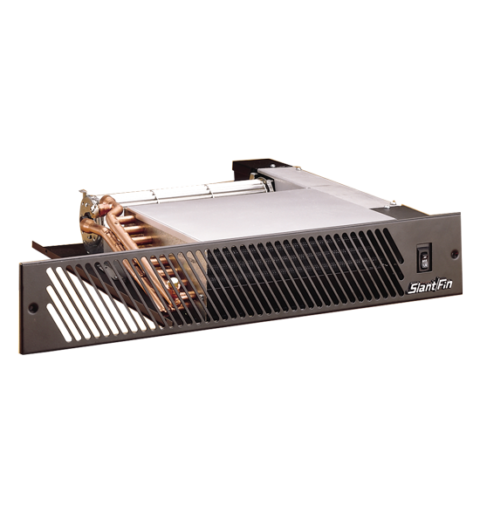 Kicker
While supplies last
When there's not enough wall space to install baseboard radiation, install The Kicker by Slant/Fin. The compact Kicker provides the heat output of up to 12 feet of baseboard, depending on the model you choose. Sized to fit under cabinets or between wall studs, The Kicker is simple to install and easy to operate. Set it and forget it.
Features
Application:

Hot water

Electrical:

120 VAC, 60 Hz.

Output:

5075 – 7227 (180 Deg. 1 GPM)

Capacity:

TK-90:0.72 F.L.A., 41 Watts. TK-70:0.62 F.L.A., 37 Watts

Range:

140 - 220 Btuh ˚F
High performance manifold-type heat exchanger
Two built-in air vent tappings. Coin or screwdriver access.
Brazed tube joints resist rigors of installation and years of operation
1/2" hot water supply and return fittings
Aluminum turbo fin heat exchanger maximizes heat transfer
Expanded copper tube bonds fin to copper for high heat transfer
Heavy duty 2-speed blower motor for extended life. Internally cooled. Permanently lubricated.
Aluminum squirrel cage blower
Aquastat permits blower operation only when the water temperature is above 130°F
Three-position blower switch is easily accessible
Hot dipped galvanized chassis resists rust and corrosion
Rubber grommets cushion chassis for quiet operation
22" matte black grille
The Kicker is generally installed with baseboard or other radiators that make up a heating zone. An aquastat inside The Kicker activates The Kicker's fan so that it automatically turns on and off, delivering a quiet flow of heat to the room whenever the water in the heating zone is hot. A convenient switch enables the user to set the fan speed at high, low or off. The Kicker may also be installed as a separate zone with its own room thermostat. The supply water in each of the short loops off the manifold makes just a single pass through the heat exchanger. This provides higher supply water temperature to a greater percentage of the heat exchanger fins than a serpentine coil. Since this configuration helps minimize pressure drop, you can often install The Kicker in the same heating loop with baseboard without diverting tees. That reduces installation costs.